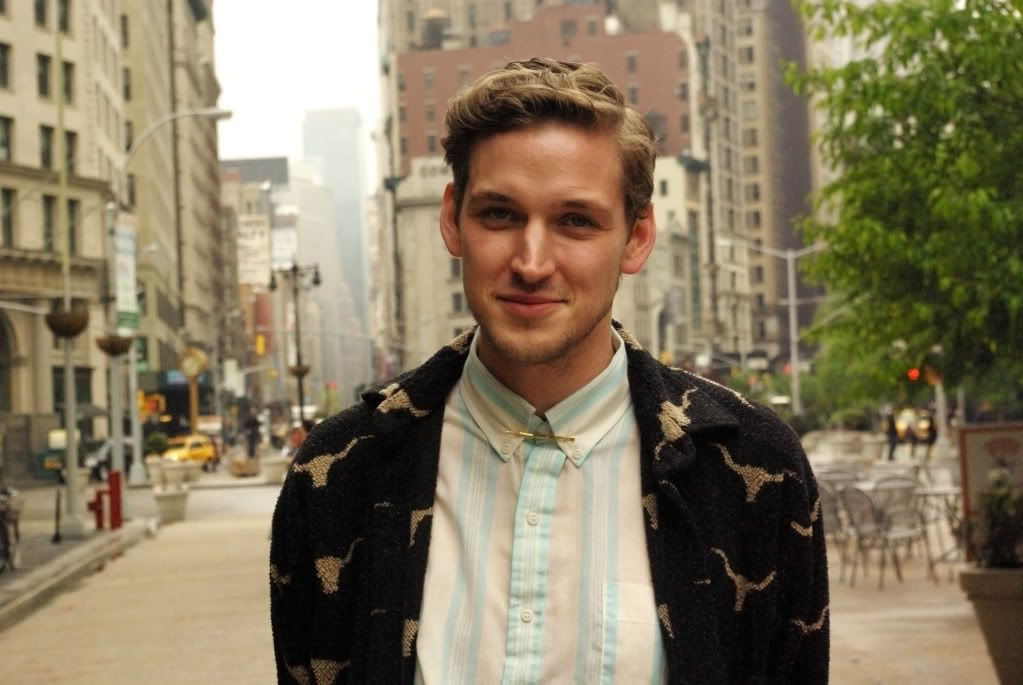 On a rainy afternoon in the Flatiron district we sat down with blogger and fashion PR assistant Landon Miller (fashiongoggled.com) for a cup of coffee. He's got an eye for thrift finds and a style that can be described as "a preppy kid who went to boarding school, then got kicked out". 
He has always had a strong opinion about what to wear and what not to wear. As a kid, he was very picky when shopping. "Cargo shorts where huge when I was little, and from a very young age I knew cargo shorts where not ok, I refused to buy them." His mother had to take him to older mens store "to avoid the hammer loop on weird cargo shorts." This was around the age of 7 or 8. Before that his favorite outfit was a pair of oversized biker shorts paired with cowboy boots that he wore all the time, to his family's despair.  
A year an a half ago Landon moved to New York and he has no plans of leaving the city. "I get so much inspiration, on the subway and on the streets here. I really like the L-train for people spotting and I feel like everyone always looks fly on the westside highway." Brooklyn Flea in Williamsburg is also a place Landon visits often, both for people spotting and buying vintage accessories. 
"Big cities are good for finding cheap good new basics, but smaller towns have better vintage." He later admits that there are some stores in New York with amazing vintage pieces, but he then adds that they are always overpriced. 
Maybe as a true vintage fan, Landon picked time travel as his superpower. Not to visit the future but to go back in time. "I would start with visiting Marie Antoinette and Versailles. I have always thought that time was super, super frivolous, everyone was so over the top and ridiculous." We asked him to be careful because mixing with the past can have serious consequences. He told us he just wants to observe, be a fly on the wall. But after meeting Landon, we are convinced that he could never be just a fly on the wall. 
For the summer he will leave the "kid who went to boarding school, then got kicked out" behind for a Rihanna We Found Love video inspired look. "Acid washed bleached denim, pastels, shredded and a lot of confetti. It's gonna be a hood summer." We are looking forward to it too.