Panama, a five-piece synth pop outfit based out of Sydney, easily qualifies as one of our favorite new groups. In the midst of a cold, wet northeastern winter, their special brand of sunny indie pop is just what we needed. Their latest release, "It's Not Over", is the perfect soundtrack for long road trips to sun-drenched beaches and has us dreaming of summer days and warmer weather. Needless to say, we've had Panama's summery songs on repeat here at the office. And this week, we were lucky enough to have band leader Jarrah McCleary answer some of our questions. 
What brought all of you together to form the band?
Well, Cam our bass player and I have been mates for years and we played in our last band, Dirty Secrets together. Lachy, our drummer and I met at a house party a few years ago, and I knew that he was the best around so I asked him if he'd be keen to jump on board the Panama boat. Trev used to be Cam's housemate and he's played in a few bands as a guitarist and percussionist so it worked perfectly to invite him to join us. Tim is a friend of friend who I'd known for a little while. The EP had some songs that I thought would really be taken to the next level if we had a saxophonist, and Tim was definitely the man to ask. We're really lucky to have all of them as they're great musicians.  It also makes a huge difference when you deeply respect the people you have to spend so much time with!
Where do you find inspiration?
I try to listen to lots of music, as much as possible. I think I'm a bit behind the times as I've only just started using Spotify but damn, it's a great source of new and old music! I'm finding it a perfect way to inspire my songwriting. I also like to try to get out of Sydney and see new things when I can as I find it helps my songwriting too.  I'm a big fan of long drives and road trips – this is a theme that seems to have wriggled its way into the way I write too.
Is songwriting a democratic process?
I do all of the writing for Panama but I definitely look for the support of my bandmates in terms of their opinions on mixes and demos. I also really value their input in terms of perfecting our live performance. 

What is your favorite on tour memory?
So far, we've only played one show out of Sydney. We supported Van She in Melbourne about six months ago which was fun. We're heading off on a short tour of Australia next month so I'm sure we'll have some fond memories to report back after that.  Most of my time overseas with this project has been recording with Eric Broucek of DFA Records fame in LA and then San Fran.  We've spent some amazing time together working on the EP (just released) and some forthcoming material.    
How would your describe the bandmembers' personal styles?
Musical styles? We're all very different. Tim our saxophonist is really into funk and disco music. Cam our bass player is the most eclectic person I know. Lachy plays in bands ranging from girl pop to pop punk to grunge rock and Trev is an avid fan of Folk music. 
If you were a band of superheroes, what would your name be?
The Panamanians.  That's probably a work in progress name, actually.  Keep you posted :)
Is there an artist, designer, or performer that you would like to see featured? Tell us in the comments. 
Hobbyist turned indie-sensation Ben Schneider of Lord Huron first began recording music for fun. After handing out some CDs at a music festival in 2010 and the subsequent frenzy that it created in the blogosphere, he found himself in the position to make music for a living. Gathering together his former bandmates from his home state Michigan, Ben created Lord Huron. With the release of his debut album Lonesome Dreams looming (October 9!), Ben was kind enough to answer our questions.
When did your interest in making music begin?
I suppose it was hearing my Dad sing with his brothers. They'd break out a guitar or two around the campfire and sing in harmony. I really liked trying to sing along, even if I didn't know the words. Back then it sounded to me like they were spot on pros. Ready to cut a record or perform in a theater somewhere. I wonder now what it really sounded like. Good enough to get me going, I suppose.
Where do you find inspiration for your songs?
Hard to say exactly where it comes from. Any number of places, I suppose. People, experiences, other songs, the outdoors. Going someplace new will often make me want to write something down. And a lot of the time it's a girl.
How do you come up with your music videos?
I often begin working on a song by thinking about it visually. I don't know why, but thinking that way helps me work things out. That image can change quite a bit while I'm working out a song, but something is always retained. I think that's partially where the videos come from. The songs are often pretty narrative, too, so there's a good starting point. From there it's just a matter of finding some good people to work with who can help flesh it out.
What was your favorite experience on tour?
Well, so far we've had a lot of good experiences on tour. Playing in Detroit for old friends and family was a good one. We once had a helluva night in Tucson.
What were you wearing when you were 13?
I used to be pretty fond of wearing an old brown fedora my Granddad gave me. And old loafers. I remember walking home from school one day with a girl. Her name was Rebecca, I think. People called her Becca. She looked at my shoes and said, "You could maybe have a girlfriend if you'd wear some different clothes." Well, I knew pretty quick I was wasting my time walking home with Becca. I made up my mind right there that I was gonna wear whatever the hell I felt like for the rest of my life. I recently started wearing a hat much like the one I wore back then.
What is your favorite place in the world?
That'd have to be the shores of Lake Huron, naturally.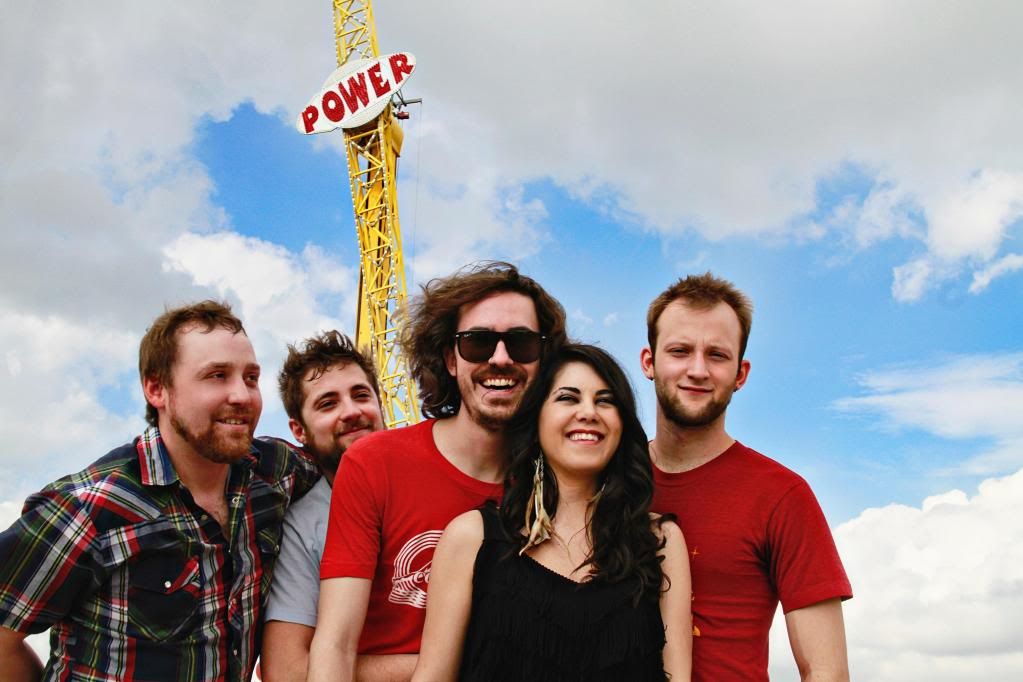 The Canadian indie-pop band Imaginary Cities' album Temporary Resident is hard not to love. There's a great variety among the tracks and the combination of soul and indie makes an interesting mix. Marti, the lead singer and only girl in the group, used to be a singer in a soul cover band. The bad performed weekly at bar in Winnipeg, where Rusty (on the left) worked with the sound. One day Rusty asked if she wanted to sing on a Motown song he had been working on. "I did it and we had a lot of fun. I asked him later if he could help me with some songs I'd been working on. We went into the studio and did the song 'Say You' which then became the first track on our album" said Marti. They continued creating music together whenever they had time and a year later they had an album and a band welcoming David, Alex and Ryan to the group.
"Winnipeg is actually a really thriving music scene. It's one of the strongest in Canada parallel to Toronto, but Toronto is much bigger. I find it to be a really welcoming without a lot of competition between musicians. It has a familiar aspect to it, a friendly place," Ryan explained.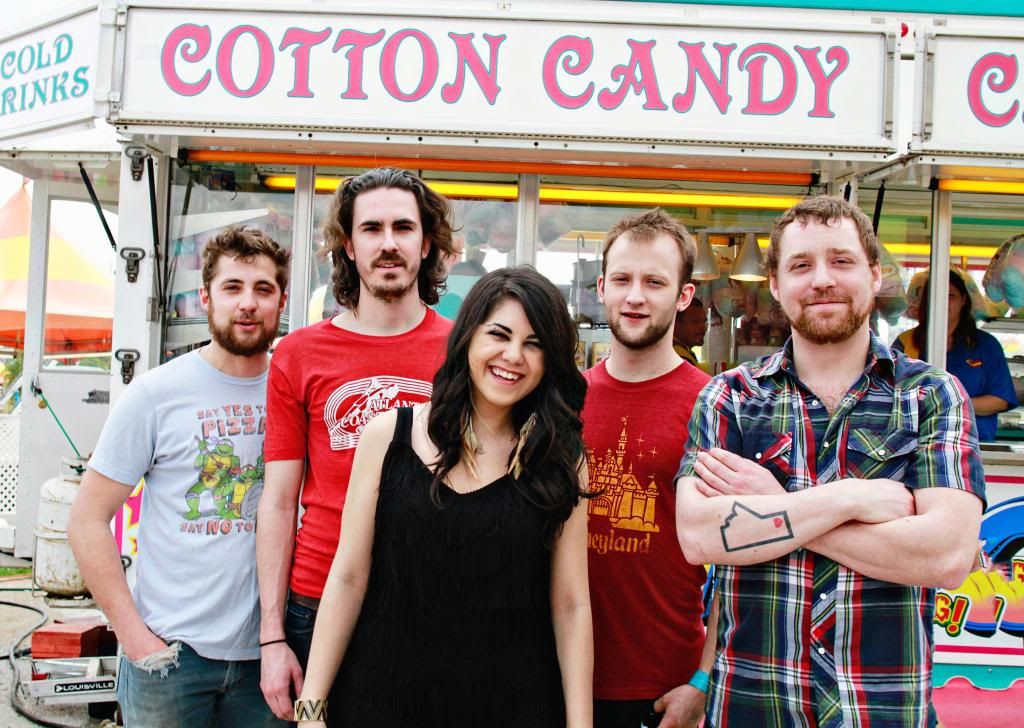 On stage the band mostly wears all black wanting Marti to stand out the most. "But even I wear black a lot, even though they try to get me to pop out. Black is my thing. And red lips,"  she says describing the exact look she's wearing as we speak. "I usually like the kind of stuff Feist wears. She looks really well put together, but on the same time very comfortable. I'm all about practicality. I don't want to pop out of my dress accidentally in the middle on a show, but I like to feel pretty and dress up."
As teenagers, they listened to everything from Destiny's Child, Rage Against the Machines and Smash Mouth. Their different musical backgrounds could be one reason their music has a very unique sound. Another reason could be that a single song could be inspired by anything from Sam Cooke's music to Simpsons episodes. "We find inspiration all over, and that's probably why there is so much variety in that album. Rusty heard a truck making a certain sound one day" said Marti, Rusty cutting in to explain. "The truck was humming this perfect G chord, and I got all this sweet music in my head and I then wrote a song around that. At other times Marti would just send me a voice note late at night, and in the morning I would write the chords to it. We start songs in all kind of ways. Any sort of small sparkle of inspiration is a good way to start any song." We are not sure exactly how, but these unpredictable mixes have turned out to be the recipe to some great music.
Order their album Temporary Resident here.