Brighton-based singer Jennifer Left is not your average performer.  As much a novelist as she is a songwriter, Jennifer uses her music to tell dark, wonderfully unsettling fairy tales.  Accompanied by music that strikes the perfect balance between up-beat and melancholy, her children's stories turned songs stand out from the crowd.  Even better, with her background in fashion textiles and knitwear, her music videos are as breathtaking as the songs themselves.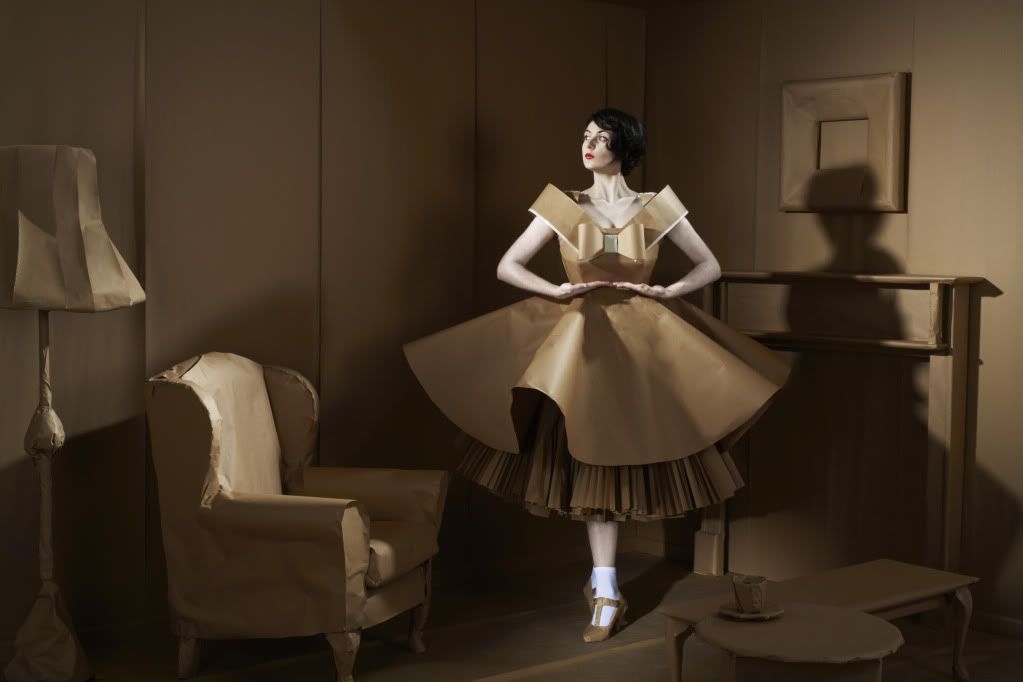 You have a unique background in textiles and knitwear.  How does this interest translate into your own work now?
Creativity, whether it be in my writing, ideas for videos and photo shoots such as the paper dress on the front cover of the Black Dog single.  When studying art and fashion textiles, you are constantly observing and soaking in your environment, taking note to later adapt and evolve.  I have always enjoyed how many different mediums and genres can almost cross-pollinate and push each other forward.  It's something that never really leaves you.
What did you wear as a fashion student?
Really horrible three-quarter length furry leopard print Converse baseball boots.
When did your interest in music begin?
When I was very young.  Since I can remember really.  I was obsessed with the violin for years.  Despite being utterly rubbish!
Where do you find inspiration?
In absolutely everything around me.  From the patterns in the pavement to the busker in the park on a Saturday, although I tend to go back to my fascination of fables and dark stories.
How do you come up with your music videos?
I have had the pleasure of working with a very good team.  Ben Hilton, who was the director of "Hushabye", has a fantastic ability to give things that lilt of the macabre…that always goes down well with me.  The Black Dog video my producer Tim Bidwell pretty much came up with before we found Thom Undrell, who has a real eye for detail.
What is your favorite vintage era?
The 1920's to early 30's. If it wasn't for the Second World War I think we would have had the 60's a hell of a lot sooner.  They sure knew how to throw a party and mix it up a little.
What is your favorite place to go thrift shopping?
A rather bizarre shop on St. James Street in Brighton called Friends.  It raises money for the lady boys of Bangkok by the looks of things, and the lovely lady who runs it hasn't a clue.  It's a giant smelly jumble sale, but if you dig deep you can find some sensational gems for next to nothing!  My friend bought a brand new Barbour for £5!!!