We were first introduced to Catherine, a multi-talented artist and vintage seller of CZ Vintage, a few months ago in an exclusive Behind the Shop Scenes interview. We chatted about her love of vintage and the thrill of the search. Over the last couple of months, over many afternoon coffees and conversations, we've since gotten a closer look at the methods she employs to curate a successful vintage shop and balance a fascinating studio art practice. Surprisingly, they are very closely related, requiring an eye for style, context, editorial judgement, and execution. 
Sourcing pieces for her shop, she relates to her art practice. They both require forms of research, using that research to find objects, and then editing and contextualizing to complete looks and artworks.  Catherine told us that "people who buy vintage [acknowledge] a past before them, and [continue] to give new life to things previously discarded," much like her artwork.  
Catherine is particularly interested in found, used, and discarded objects.  She combines them and writes texts about them that describe their complicated and conflicted histories.  By doing this, she seeks to activate those almost forgotten objects. Take for instance, a Francois Marot white pebbled leather purse that she unearthed.  It was in pretty bad shape with burgundy lipstick all over its cover and filled with loose bits of tobacco.  Catherine couldn't help but to imagine the adventurous nights out that the bag had been witness to.
Most importantly, Catherine needs a base idea, her "catalyst", to begin a search.  Usually there is a spark of interest that leads to the creation of a piece or a search for something.  Fashion magazines and her boyfriend's filmmaking often serve as inspiration for her vintage searches.  Over the last year, she has been costume buying for his and Whitney Horn's 90s-set film L for Leisure, which also conveniently provides her with inventory when they are done.
Above all, Catherine says she enjoys the "harvest", when the background research and searching result in specific pieces revealing themselves out of the masses. 
Check out her cool, vintage finds for CZ Vintage on Etsy and Wiseling. For more on her fashion inspiration see her CZ Vintage Tumblr. On art, lifestyle and general interest, visit her other Tumblr, Open With Electricity.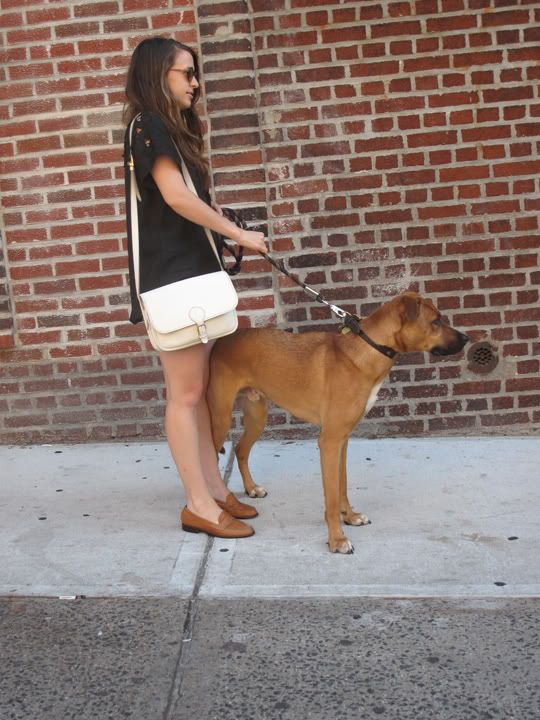 Above: Catherine with her dog Stan. 
OUTFIT DETAILS:

Francois Marot white pebbled leather purse with black leather interior:
I found this piece in pretty bad shape with burgundy lipstick all over its cover and filled with loose bits of tobacco. This object was surely witness to a few adventurous nights out!

Teal high waist cotton 1950's shorts with rouched pockets:
These appear handmade by an expert sewer. Faded to a lovely surfer teal color. I found them in the desert of New Mexico, where they were given to me by another vintage seller because she felt they were made for my body shape.


Black linen floral-cutout blouse:
I found this while on a majestic trip to Maine with my boyfriend and several friends. I searched the local shops for a good breezy summer piece and found this to wear over my bikini. 

Butternut Leather Sebago loafers:
I love Dieppa Restrepo and Rachel Comey shoes and always look for vintage finds that match their lines of beautifully made menswear inspired women's shoes. I found these loafers that approximate their styles and have worn them almost constantly ever since I found them.

Rouched White Leather Jacket:

Found while on a trip to my dear friends Natalie and Pierre's wedding in Upstate New York, which I happened to officiate! Natalie is also the artistic collaborator behind our show NP – CZ as well as a frequent buyer of my vintage wares. She recently walked away with a lovely Marco Avane Tapestry bag I had in my store.
Above: NP – CZ Art show installation: Collaborative show with Artist Natalie Beall in which they used all the remnants of Catherine's art studio and apartment to create sculptures.
Above: CZ Vintage Popup Shop
Above: Still from L for Leisure with costumes for Mati, center floral dress, and Gabriel, left white vintage Ralph Lauren Jeans. In production, still is from recent scene shot in Valensole, France.