Masaya Kushino knows the way to our hearts: shoes.  But his aren't just any shoes, they are works of art.  Literally.  Masaya turns footwear into sculpture, attaching plants, pony-tails, and more.  He has even sculpted a pair of heels to resemble sheep horns.  This incredibly talented artist kindly answered some questions for us and we still can't get over his beautiful, insightful answers.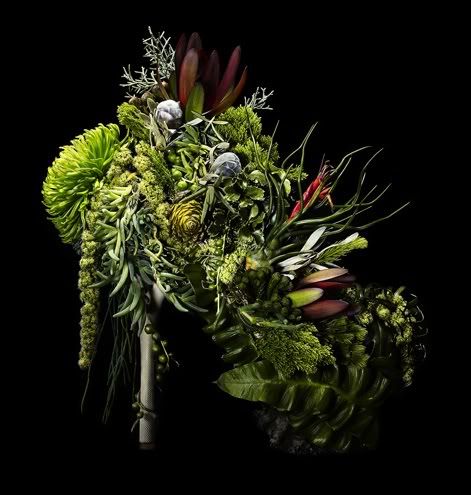 When did your interest in art begin?
I became interested in art in my childhood, when I started drawing.  I enjoyed making things.  However, I never really had the opportunity to come in contact with art as I grew up in the countryside with no museums nearby.  My first real exposure to art was at 18 when I moved to Kyoto to study fashion.
Why do you combine shoes and sculpture?
Mostly because I like sculpture.  Shoes are fashion items that are so close to sculpture in presence, so their chemistry is good.  When I combine the two, I have infinite design possibilities.
What kind of materials do you use in your work?
I am particularly fond of animal materials like feathers, horn, and bone.  I get a lot of inspiration from animals, from which I imagine a variety of designs.  However, in the future I wish to use active materials and make full use of science using materials from different industries.
Where do you find inspiration?
Everything I see, touch,  and hear becomes inspiration.  From there, I think design comes from a combination of things remembered.
What were you wearing when you were 13?
I was wearing a lot of vintage.  My father was a very fashionable young man so I wore many of his old clothes.
What is your favorite pair of shoes?
I like my Lung-ta shoes with the blond hair.  I am also very fond of designer Anastasia Radevich's shoes.  So strong and beautiful.
Which recent purchase are you most excited about?
I just bought flight tickets to London!  It gave me a lot of possibilities and hope for the future.
What is your favorite place in the world?
I like Fez, Morocco and am very fond of Kyoto.  Tibet also comes to mind.