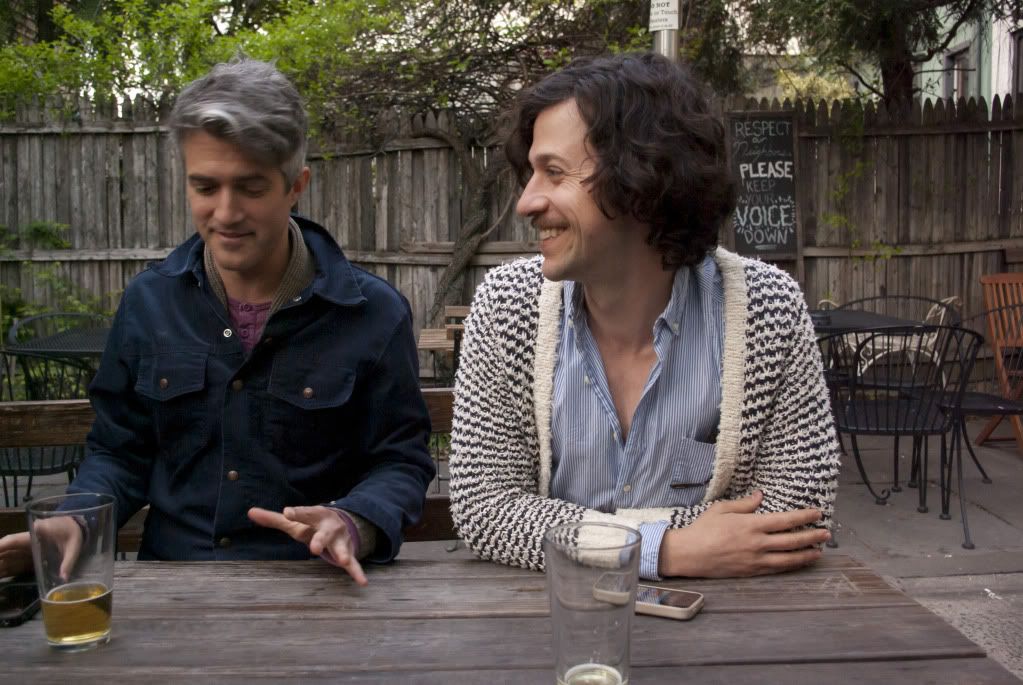 Chris Cain and Keith Murray of We Are Scientists never go through a wardrobe change before a show. "We want to be in character all day. We are method musicians, which is rare. Most people can't maintain the level of intensity we do for a full day," they told us over a beer. Sitting in the garden at Nita Nita in Brooklyn, it could not go unnoticed that these two have been friends for a long time, constantly making jokes about each other and themselves. They formed the band in Berkley, California back in year 2000 but are now based in New York, working on a new album. It's the first album they've produced in New York, this time working with producer Chris Coady. It's an album containing ten songs and exactly ten notes, they divulged when we asked for some secrets. "We use two non-Western notes. They sound bad when we use them, but they are supposed to invoke terror, irony, and abject paranoia." Chris explained. 
Abject paranoia is the last thing to come to mind when talking to these guys. Except for when we asked them about super powers they'd to like possess. Chris revealed that he'd like a venomous bite to provoke paralysis. Keith would like to control animals. Why? To command all the beasts to make them go away when they are unwanted. "You hear that birds?" he shouted to the sweet chirping in the branches above us. 
As a 13 year old, Keith lived in Miami with a wardrobe full of oversized T-shirts with screen-printed cartoon characters and baggy flannel shorts. "I haven't worn a pair of shorts since then, at least not unironicly," he adds and later blames his past style on Pearl Jam. Chris was more into matching as a teenager, wearing monochromatic outfits, head to toe denim or corduroy. 
Feeling at home in a hovel, Chris and Keith frequent the Levvy in Williamsburg, one of their favorite places to drink. If they're in the mood for a film, they go to the Kips Bay movie theater. "They have terrible popcorn, but very little bedbugs there". This advice was followed by a long discussion about popcorn versus cheese balls, but we got lost somewhere in the middle of all this.