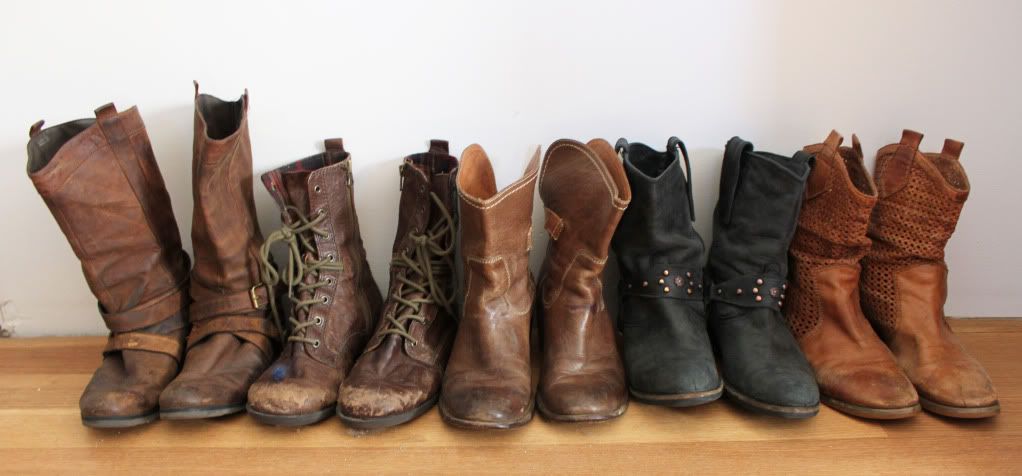 Nancy Sinatra sang "These boots are made for walking," but I'm sure many of you have found that you can only walk so far until your boots begin to fall apart. Leather boots can be an expensive investment, and to get the most bang for your buck, you'll want to take good care of your boots.  Whether you buy your boots new or second hand, there are ways to restore them and keep them looking and feeling new.
 

You will need to purchase a bristle brush, leather cleaner, mink oil and leather conditioner. You can find leather care kits on Amazon for around $25. 
First clean your boots with a bristle brush to remove all dirt.
Scrub your boots the leather cleaner.
Wipe off the leather cleaner with a cloth and let them dry.
Once the boots are dry apply the mink oil.
Finally add leather protector to protect your boots from scratching.
If you find that the soles or heels of your boots are becoming run down, we recommend getting them resoled by a cobbler. If you bought you boots new, wear and tear is sometimes covered under warranty. Otherwise, replacing the soles typically costs between $30 -50. A small price to get continue stamping around the pavement in your favorites shoes.